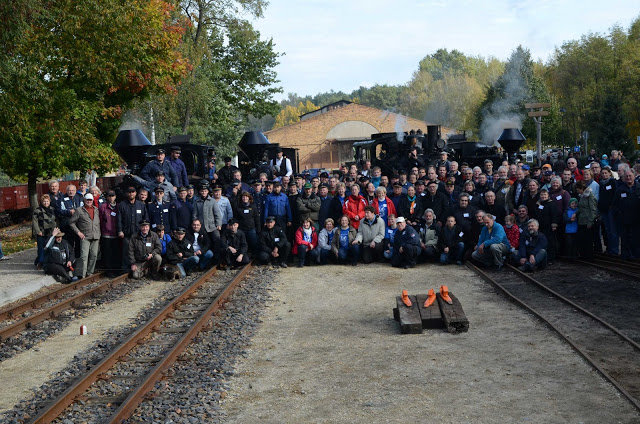 Arrangørholdet. Sikke et team!
Dear participants of the 22nd International Feldbahn meeting,
in 1991 the organization of Feldbahnmuseum Oekoven and the Frankfurt Feldbahnmuseum initiated a meeting of the Feldbahn- railway associations and interested friends to cooperate better in the future in various fields. No one would have expected that from that first meeting in Frankfurt once such a renowned event occurs with Europe-wide action.
Back in 2003, the WEM host the event successfully. The 20th International Feldbahn meeting 2010 in Romania used the forest railway Muskau to speak to an application to host the event in 2012. Participants overwhelmingly voted again for an event at "Weißwasser", which focuses on the Mühlrose. The claim to the host is high, the meeting has in the past 2 decades, but developed into a high-quality event. So the preparation took more than 1 year to complete.
Over 200 participants from 7 countries met then in the bright autumn weather to the main program of 12 to 14 October in "Weißwasser". As a central venue, the Visitor Information Centre at the Museum station acted. On the track system around the building itself presented field trains of the forest railway's own collection and some 20 guest vehicles of the participants of the meeting. The focus was beside the two WEM steam locomotives 99 3312 and 99 3317 undoubtedly Brigadelok 99 3311 (ex WEM) of Schinznacher Baumschulbahn (Switzerland) and the Tender Machine 99 3462 (ex MPSB) of steam Kleinbahn Mühlenstroth.
The Saturday was reserved alone the route to the former Tonschacht Mühlrose. The Roadmap, from less than 8 passenger and freight couples on the 10.5-kilometer line. In addition, the guest Feldbahnloks still use the opportunity for a trip there. Since the existence of the sound drum in 1966, this day is probably been the most extensive travel on those tracks.
The end of the Feldbahn-meeting on Sunday marked a two-hour car parade. 26 images in important stages of the forest railway history, special vehicles and field course trains were presented. For lunch it was the transfer of the challenge cup "Lokschuppenbar" to the host of the 23rd International Feldbahn meeting 2013, the park train in Chemnitz. Previously, the group photo was taken, which should serve as a reminder in the appendix.
The vote for the venue in 2014, was in favor of the 600 mm narrow gauge railway from the Open Air Museum Ventspils / Latvia. We hope that we see as many from you again. Considered by far, it has given us a lot of pleasure to organize this meeting. And we have you to thank, above all, as a participant. We wish you all the best for the future.
Mit freundlichen Grüßen/ Best regards
Susann Schurmann
Marketing Waldeisenbahn Muskau GmbH
Her på dette link kan du nyde et par af de fotos jeg fik taget på turen: se indlæg af 26/10